PAMI DEOL IS A LECTURER IN COMPUTER SCIENCE AT CHESHIRE COLLEGE – SOUTH & WEST, HAVING SPENT MANY YEARS IN THE INDUSTRY PRIOR TO TEACHING.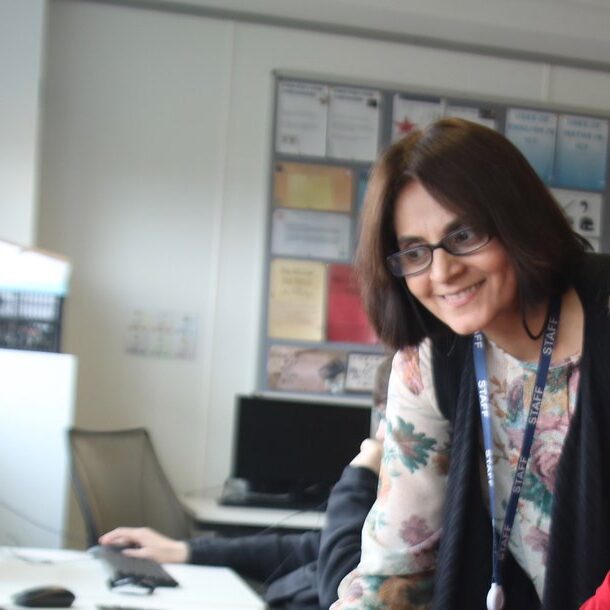 In this article, she provides her top tips on becoming a systems analyst and why women are particularly suited to this role. Pami explains the best educational pathways and courses to take for a career in systems analytics, as well as the skills and perspectives that make females ideal for the role.
I MAY BE BIASED BUT IT AND COMPUTING IS THE BEST INDUSTRY TO WORK IN.
The diversity of working in the sector, its ever-growing importance to the economy and the incredible people within it make it a wonderful industry to be in.
One of the most rewarding roles in the sector is IT systems analytics, a job that requires computing dexterity, attention to detail and excellent teamwork. But how do you go about becoming a systems analyst and why should you pursue a role in this area? This guide is on hand to give you the insights you need.
TRANSFERABLE SKILLS: WHY WOMEN MAKE BRILLIANT SYSTEMS ANALYSTS
In the computing sector, you'll find that women will thrive in any number of roles but particularly systems analytics, and this is down to the creative mindset that they often possess, as well as their capability to think outside-the-box. Such skills are invaluable for this kind of role as creative thinkers can help to find innovative solutions to problems that may not be immediately obvious when approached from a more logical, fixed perspective.
I've found that many of the female students I've been lucky enough to teach have adaptability in abundance, and this is a brilliant trait to have when it comes to enjoying a successful career in systems analytics.
As a systems analyst you'll need to be able to navigate different dynamics within a team, effectively communicate with a range of people, and adjust their approach to foster collaboration, making an ability to adapt an important trait.
In a wider sense, being adaptable enables analysts to stay current, responsive, and proactive in their role, ultimately contributing to the success of system implementations and improvements. These skills and perspectives are what make women such brilliant computing professionals and why so many thrive in roles such as systems analysts.
PATHWAYS TO BECOMING A SYSTEMS ANALYST: T LEVEL IN DIGITAL PRODUCTION, DESIGN AND DEVELOPMENT
T Levels are a relatively new technical-based qualifications for those aged 16 and above that were first introduced back in 2020 and offer a high-quality alternative pathway to the more traditional theory-based A-Level.
These courses are built on a combination of learning through practical and knowledge-based study in classrooms, combined with a minimum nine-week industry placement.
The digital production, design and development T Level is a fantastic course which has been developed with the help of employers, covering all aspects of computing including systems analytics.
It'll also equip students with a whole host of programming skills such as JavaScript, Python, SQL and HTML and the chance to deploy them in an industry setting through work experience opportunities will only serve to enhance your capabilities.
The skills and experience that can be gained from these courses are readily welcomed by industry and will put you in a strong position to make that next step.
PATHWAYS TO BECOMING A SYSTEMS ANALYST: GAINING WORK EXPERIENCE
For university graduates and college leavers, in order to give yourself the best chance of securing a role as a systems analyst, it's vital that you seek out any work experience opportunities.
As with any competitive industry, employers want to see that you've been able to experience a workplace environment as this can demonstrate a broadening of your professional skillset and will show that you aren't a stranger to working in an IT-based environment.
The chance to hone your skills in industry is invaluable for your development and can provide you with more practical experiences to discuss in an interview setting. Whether its work experience as part of a wider IT firm or an in-house team, remember that all experience is good experience, and it will help your CV to stand out.
PATHWAYS TO BECOMING A SYSTEMS ANALYST: POST-19 COURSES
If you're looking to make the switch from a non-computing sector into systems analytics, enrolling on an adult course at a local college is a great way to build up your qualifications and skills.
There are a whole host of high-quality courses available from the Essential Digital Skills Qualification to HNDs that can provide you with essential skills in key coding software such as HTML, CSS and JavaScript, as well as more general programming and analytics.
You're more capable than you realise and if you want to make the move into a new role like systems analytics, I would always say that you should go for it!
BELIEVE IN YOURSELF
Women make brilliant IT professionals and have the capability to enjoy a long and successful career in the sector. A career in systems analytics is incredibly rewarding and offers fantastic opportunities for growth in an exciting sector.