Welcome to SheCanCode's Power Up Webinar series. We are thrilled for you to join us. 
In a world that's constantly evolving, staying ahead of the curve is not just an option—it's a necessity. Our Power Up Webinars are your passport to the latest insights, trends, and strategies that will propel you toward success in the tech sector. Whether you're a seasoned professional, an aspiring entrepreneur, or someone eager to deepen your understanding, this series is designed to cater to all levels of expertise.
RECRUITER SECRETS EVERY TECH JOB SEEKER SHOULD KNOW
Recruiters often hold information that the average job seeker isn't privy to. Understanding this, the role recruiters play and how the hiring process works are integral to a successful job search.
In this 40-minute session, hosted by SheCanCode, Amita Patel, Talent Attraction & Engagement, Deepmind, will reveal everything you need to know to give you the edge and secure the right tech role for you.
UNEARTHING TECH GEMS: DISCOVERING TALENT BEYOND CITY LIMITS
The trend toward tech talent outside of major cities is expected to continue, and it presents opportunities for both individuals seeking tech careers and companies looking to tap into a broader talent pool.
In this 40-minute session, we discuss remote work, quality of life, distributed teams, and the link to increasing diversity of perspectives.
THE ART OF SAYING NO & SETTING BOUNDARIES AT WORK
With burnout on the rise, employees no longer saying 'yes' to the hustle culture and a greater focus on mental wellbeing – how can we say no to our boss and set solid boundaries at work?
Join our empowering 40 minute online event as our speakers answer this question and much more.
BEING YOUR OWN AUTHENTIC SELF
Sometimes it can feel like a lose-lose for women – we're often judged for demonstrating too many classically 'male' behaviours and penalised for being too stereotypically 'female'. So how can you develop a style that is true to your own self and principles?
Join SheCanCode as we discover how authenticity can drive success, foster inclusion, and empower your career.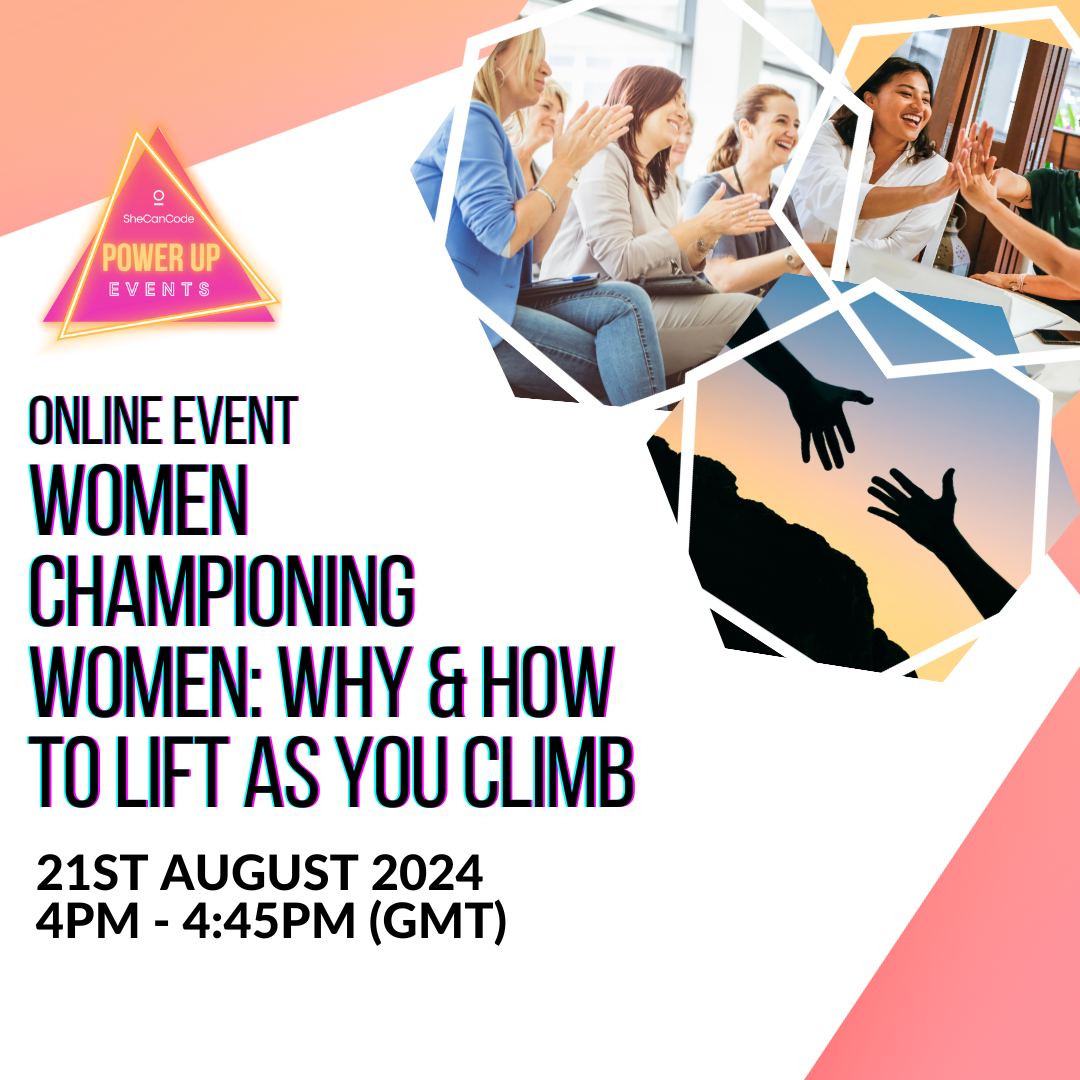 WOMEN CHAMPIONING WOMEN: WHY & HOW TO LIFT AS YOU CLIMB
As we all know, the tech industry is still largely dominated by men – but there are more and more fighting for greater diversity and inclusion in the sector.
There are a number of initiatives championing women in tech, networking groups, women's events and awards all trying to address the lack of women in tech.
But why should we care? And what can women do to champion each other?
Join us and our speakers in this 40 minute online event, as we answer these questions and more.
HOW TO BUILD YOUR PERSONAL BRAND
In today's competitive job market, your personal brand is your superpower.
Join SheCanCode and learn the art of crafting a compelling personal brand that
sets you apart, boosts your professional visibility, and opens doors to
exciting opportunities.
Our expert speakers will share valuable insights and strategies to help you shine and succeed.
MALE ALLIES: HOW TO FIND THEM & THE ROLE THEY PLAY
Having male allies, both in and out of work, is incredible important.
Male allies can help amplify women's voices, promote gender equality, challenge bias and stereotypes, mentor and support career growth, amongst many other things.
In this session, we'll ask what male allyship looks like, how we create more male allies and how men and women can better work together to accelerate progress.
Missed our insightful webinars? No worries! Explore SheCanCode's collection of on-demand webinars, covering a wide range of tech and career topics. Learn at your own pace, anytime, anywhere.
Stay informed, empowered, and inspired. Start watching now!