According to Bumble, while women have made strides in STEM (science, technology, engineering, and math) in recent years, jobs within these fields remain overwhelmingly occupied by men. In the U.S., the percentage of women in computing decreased between 1990 and 2019. And in 70 STEM occupations, men outearn women in all but one.
In order to address this inequity and provide access to those typically excluded from the industry, Bumble launched the Bumble Tech Academy in October 2021. A paid six-month technical training programme for all women, including trans, nonbinary, and gender-nonconforming people looking to transition into tech.
Bumble received over 1,000 applications for just eight positions – where upon successful completion of the program, the cohort will be offered a full-time role as a Junior Software Developer. We're delighted to introduce some of the graduates of Bumble's inaugural Tech Academy and share their stories, motivations, and advice.
WHAT MOTIVATED YOU TO APPLY FOR BUMBLE TECH ACADEMY?
Carolina Kakefuku del Solar, Junior Android Developer
Most of my friends work in tech, I think that's why it has always been appealing to me. The catalyst happened a couple of years ago though when I had the opportunity to work with an amazing engineering team and fell in love with their work. That's when I realised how much I wanted to do that work and started free online coding courses.
Helen Hoang, Junior Developer
Technology touches everything we do in our daily lives and has significantly improved our quality of life – I wanted to be part of that!
TELL US ABOUT YOUR CAREER BEFORE JOINING THE BUMBLE TECH ACADEMY.
Maria, Junior Developer
I worked in SEO (Search Engine Optimization) and Digital Marketing for some years, but I graduated in History of Art and Literature Studies, so my academic background isn't related to technology. I studied for a Master's degree in Digital Marketing and worked on that until I found the Bumble Tech Academy.
Carolina Kakefuku del Solar, Junior Android Developer
I studied Legal Translation at the University of Buenos Aires because I like languages. When I moved to Barcelona, I joined a mobile-gaming company where I was working as a Team Operations Manager for one of the engineering teams.
Helen Hoang, Junior Developer
My job before BTA was as an English Teacher in Spain, so it was a nice change to be on the other side of the classroom!
WAS THE CODING BOOTCAMP WHAT YOU IMAGINED?
Maria, Junior Developer
Two coding bootcamps, to be precise! It has been very intense, and there were moments of frustration, but they're forgotten as soon as you build something that actually works, with your own hands. It's also really satisfying when I look back and see how much I've learned in the past six months.
Verónica Carvalho, Junior Android Developer
I had no expectations when I first started. I'd say it was a rollercoaster of emotions. At times you can feel like it's not for you (imposter syndrome alert!), it can get competitive, depending on your situation. But I learned that it's always best to look for support; reach out to those you're close with. Those three months fly by!
Mareike Herrmann, Junior Backend Developer
It's amazing how much we learned in six months. From zero coding knowledge to developing apps that are functional and look good! It was very intense with many ups and downs, but overall a great experience.
WHAT ADVICE WOULD YOU GIVE TO OTHERS TRANSITIONING INTO TECH VIA A BOOTCAMP?
Maria, Junior Developer
Make sure the stack is aligned with market demands, and that the bootcamp is well-connected with companies to give you the best chance of finding a job afterwards. Also, one of the obstacles to joining a bootcamp is economical, especially full-time, so find out if they offer financial help or scholarships.
Helen Hoang, Junior Developer
Be patient with yourself and celebrate every win! You're entering an entirely different world with its own language, so you can't expect to know everything at once. Start with bite size pieces, and regularly reflect on what you have learned each week and be proud of it, what you're doing is difficult.
Mareike Herrmann, Junior Backend Developer
Be patient with yourself, trust in the process, don't compare yourself to other people, and enjoy it!
COULD YOU SHARE SOME TIPS FOR LEARNING CODING AS A TOTAL BEGINNER?
Carolina Kakefuku del Solar, Junior Android Developer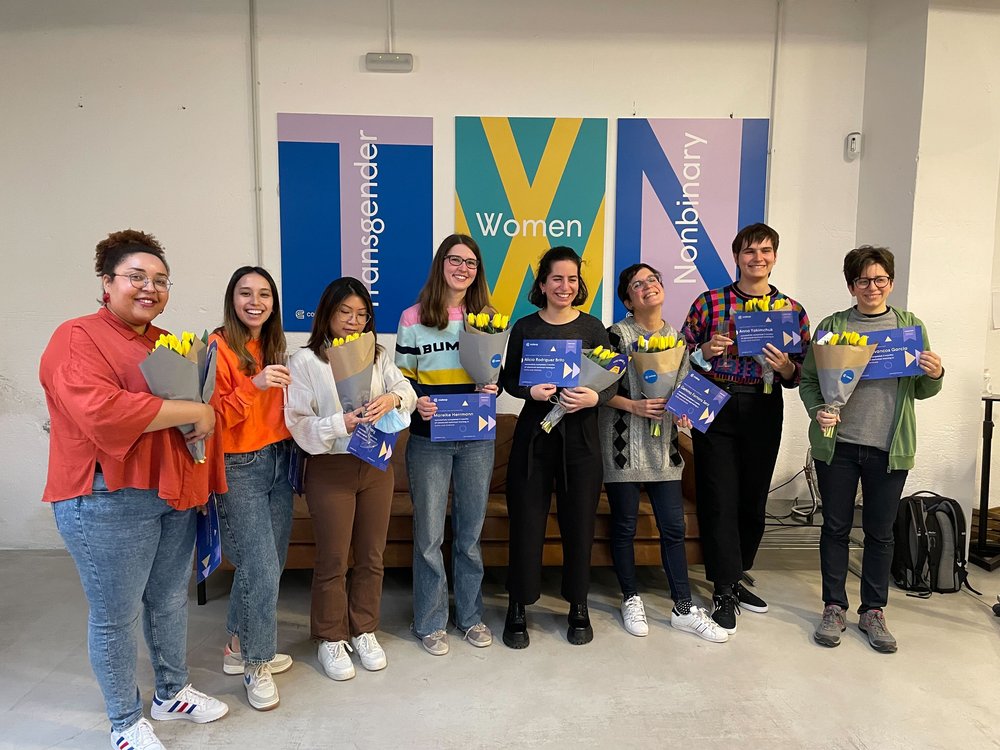 Ask a lot of questions and try to talk to different people, you'll learn something different from each of them and they'll each have a different way of explaining things. Ask to pair-program with more experienced developers. Make the most of your experience outside of coding. In my case, having experience in translation and communications helped me view coding languages as languages, and also how to work together in groups.
Verónica Carvalho, Android Developer
Not everything will make sense the moment you learn it. Don't feel bad for looking up Youtube videos, Googling, etc. With time, you'll see all developers do the same, even senior ones! It's about learning how to think in a specific way, like learning a new language. Practice, look for more information, and don't be afraid of exploring and not knowing something – it's all part of the process!
HOW HAVE YOU FOUND YOUR EXPERIENCE WITH BUMBLE?
Carolina Kakefuku del Solar, Junior Android Developer
I'm learning tons of new things: frameworks, architecture, and tools I've never used before. It almost feels like going through a third bootcamp! Luckily for us, everyone has been really welcoming and lends a hand anytime I need help with something.
Verónica Carvalho, Android Developer
My team has been very welcoming and helpful, everyone makes sure I have everything I need to learn and evolve. There's no such thing as a stupid question at Bumble.
WHAT MAKES YOU MOST EXCITED TO BE A SOFTWARE ENGINEER?
Carolina Kakefuku del Solar, Junior Android Developer
Besides the fact that I enjoy coding, I'm excited to work on different features that reach a lot of people, and that hopefully improve their lives.
Verónica Carvalho, Android Developer
Working on the other side of an end-user product, making software more human, and to never stop learning.
Helen Hoang, Junior Developer
Being part of an industry that's ever-changing gives me the opportunity to keep learning and upskilling.