We are all aware that emerging technologies are rapidly changing the way we work. It is predicted that by 2030, over 80 million people around the world will lose their jobs to automation.
Therefore, if we want to become indispensable employees or candidates, what do we need to do to futureproof our careers? That was the question we attempted to answer when we launched our SheCanCode Power Up event series last week.
I hosted a fantastic panel of women from various professional walks of life:
Throughout the evening we discussed strategies to futureproof your career, tips on how we should go about it, and what we should expect from our employers. With an incredibly engaged and enthusiastic audience, we covered even more than we anticipated, so have decided to split our coverage into two parts.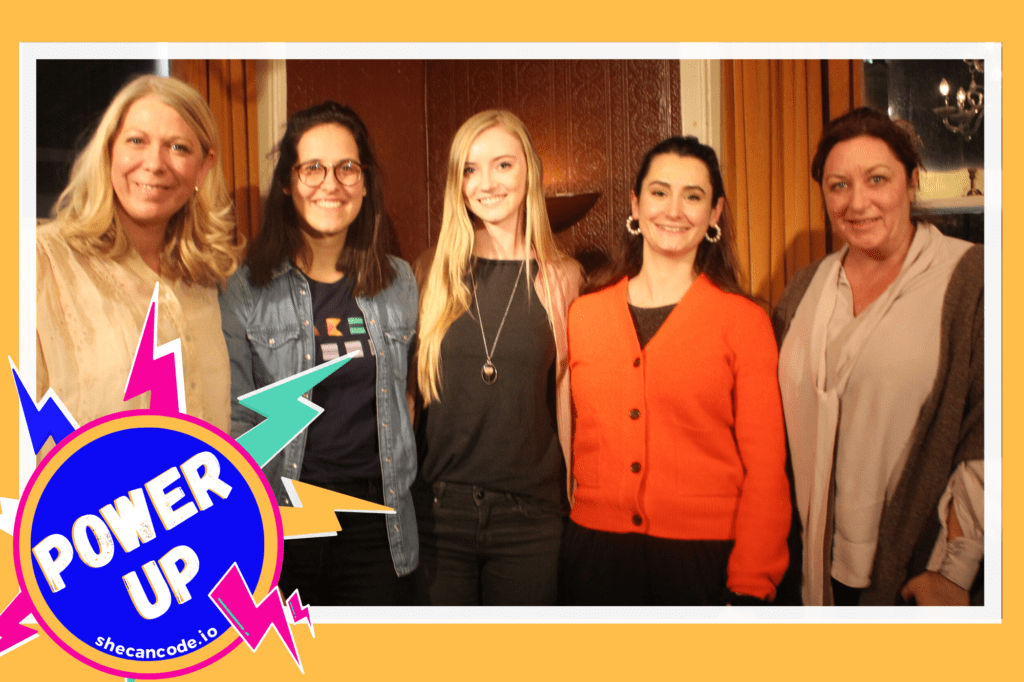 This first blog looks at the questions we discussed around how you can futureproof your own career, our next blog will look at what you can expect from your employer when looking to futureproof your career.
Technology is evolving faster than ever, if we don't keep up with some of the major tech trends, we run the risk of being left behind.
Q: WHAT KEY TECH TRENDS DO YOU THINK WE SHOULD BE FOLLOWING?
Holly: Cloud Computing was top of Holly's list, and she talked about how powerful and expansive cloud computing will be for companies who want to keep growing and innovating in the future.
Joana: Emotional design and all things customer experience will be increasingly important, according to Joana. It's more and more important to compel users to want to return to a digital experience.
Caroline: Artificial Intelligence (AI) will deliver some of the most significant innovations this century. Look what we have seen already! It is and it will continue to impact pretty much every aspect of how we live our lives, and none more so in the future workplace. The demand for talented engineers has more than doubled in the last 2 years, and with more and more companies starting to design and deploy their own AI-based systems, that number is sure to increase.
Q: WHAT ARE YOU DOING TO FUTUREPROOF YOUR OWN CAREER?
Holly and Joana both highlighted the importance of continued learning as a big part of their future proofing.
Staying on top of tech trends and developments whether online or offline, attending industry events, or simply networking with your peers and company colleague can help you feel in control. Investing the effort now, will help with your self-development and your self-confidence.
Q: IN AN INDUSTRY OF CHANGING AND UPDATING TECHNOLOGIES WHAT DO YOU RECOMMEND – SPECIALISATION OR GENERALISATION?
Joana: The answer to this question lies in knowing what type of company you want to work for. As a rule, you can thrive in bigger companies as a specialist yet in smaller companies and start-ups you may be required to play the role of a generalist.
Holly: Having worked in a variety of sectors ranging from games development at Xbox to Cortana and Paint 3D at Microsoft, combining skills can offer and open up more opportunities for advancement and learning in your career. However, if you do choose a career path in a sector like security, you are more than likely to become a specialist due to the complex nature of the field.
Laura: From the employers' perspective, start-ups are now looking for more mid-level and senior full-stack engineers, who can work and contribute across the stack. My opinion would be that you are more employable as a strong all-rounder or polyglot.
Q: THE 5 YEAR PLAN: TO BE OR NOT TO BE?
There was a general consensus among our panel that having a long-term career plan has its benefits but, can be unrealistic in this fast-changing world we live in.
Toni: Have a vision but don't break it down into one path, life and your career doesn't work like that!
Laura: Have a good idea of what you're aiming for long term. Ask yourself, do I want to be a future team leader? Or do I want to focus on coding and development? This will help you put the blocks in place to get there, gradually and successfully.
Holly: Holly tracked out where she wanted to be, what kind of skills and experience that was going to require. She explained that "This approach keeps me focused and able to prioritise learning, development and opportunities. It's important to feel like I'm progressing and that I have purpose, even when my goals or plans change along the way."
Caroline: In my experience it's really important to be flexible and keep your mind open to new and different opportunities. Commit to lifelong learning, and always be proactive.
Q: WHAT ADVICE DO YOU HAVE FOR FINDING A MENTOR?
When we asked those in the room if any had a mentor, only a handful of women said they did. But virtually everyone was actively looking for one.
Toni: Don't dismiss your own organisation as a source of mentors, either male or female. Go to events, be open, talk to people. People are open to helping and are generally honoured to be asked.
Holly: My most useful mentors are all within 5-10 years of where I am in terms of career. They understand the challenges that I am currently going through (because they have been there to) and are able to advise me on how best to manage and respond.
Caroline: Mentoring is becoming an increasingly vital skill and resource for companies to offer their employees. We know that it can help increased levels of employee engagement and most importantly retention.
Q: WHY IS PERSONAL BRANDING IMPORTANT WHEN LOOKING TO FUTUREPROOF YOUR CAREER?
Caroline: Personal Branding is super important. We are in a very crowded and competitive industry and we will at some point in our careers, need to stand out to move forward. If you are transitioning into tech from another industry, like I did, you might feel more nervous, well, don't! We will be publishing a blog about personal branding very shortly but for now, here are our panels responses.
Holly: Holly's Instagram account HerHelloWorld has over 15,000 followers. Using social media platforms regularly and connecting with and helping other women in tech can not only build you a great community of like-minded women, it can also open you up to receiving all sorts of interesting and exciting opportunities.
Toni: Keeping true to yourself. Remember to connect your past history and your uniqueness to what you're hoping to do in this new career of yours. Your back story is your differentiator, your very own marketing tool.
Caroline: Don't underestimate the power of social media and your public profiles. 88% of recruiters look at your online profile before they look at your CV!
Throughout the session, 'networking' was highlighted as one of the key things you can do to help future proof your career. Many of us still feel the 'fear' and nerves when going to conferences and industry events, so our panel shared some tips from their own experiences.
Toni: Firstly, it is ok to have stranger danger, we've all had it! Remember everyone has been in the same boat.
Holly: Breaking the ice. Make the first move and share something funny or light hearted with someone else. This approach can take the pressure off, remove the awkwardness of 'small talk' and allow you to fast forward to some meaningful conversation with someone.
Caroline: Go with a colleague, safety in numbers then split up and task yourself to speak to people.
Joana: Go on your own, likely to be more focused and not distracted.
Overall, we all recognised that networking whether at events or just with colleagues and peers is super important for building knowledge, confidence and of course your community,
Remember: No way is the wrong way; just do whatever works best for you!
Look out for the second part of our Power Up event coverage where we explore the role your employer should play when looking to futureproof your career.
About the author
Managing Director
SheCanCode